Luxuriously soft, organic cotton bedding for kids.
Hello Bundle!
Pillowcase + Fitted Sheet + Duvet Cover
Featuring GOTS certified organic cotton, stylish pre-matched patterns, premium natural buttons and TIPA® fully compostable packaging.
As two mothers founding Dewberry, we shared a clear vision of creating a product that will be loved by the kids but will also not steal from our own aesthetics.
Why buy Dewberry
Dewberry is a company that makes products for kids, but with parents in mind. As parents, we wanted a premium bedding that will last for several years, made of high quality materials with reliable traceability and subtle patterns applied by non-toxic dyes. Think soft but sturdy, crisp but with that "worn-out" feeling, with graphics and colors that appeal to youngsters but are also appreciated by the most design-conscious parents. Add in GOTS (Global Organic Textile Certification) standards throughout the entire supply chain and a packaging that acts like an orange peel, fully decomposing within 6 months, and you've got yourself a premium quality bedding that will withstand years of pillow-fights and sleepovers.
Shop Collection
A Product with Purpose
Our bedding is made in Portugal, by a small factory specialized in crafting the highest quality home essentials from hand-picked suppliers of fine materials.  Our approach to creating a truly earth-conscious product lies in relying heavily on the human factor, incorporating hand-made crafts and techniques in facilities that prioritize their workers – throughout the entire supply chain.  By virtue of this creative journey, we have also built genuine relationships with people who share our vision of a planet where textile waste is a call for action and solution and not one of fear and doom. We have made a product that we believe in, conscious of the planet that we believe in too.
Shop Collection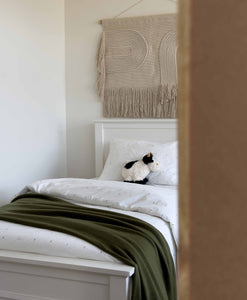 Buying Less is Buying More
As adults we have fortunately come to realize that quality bedding is essential for a good night's sleep and so it is a worthy investment. When it comes to our children, we are often hesitant to apply this same buying habit, because kids tend to outgrow their "stuff". But how often does one outgrow their bedding?  .. that's right! And patterns? - we love us some patterns, but we stick to the ones that can outlast the "whim of the moment" infatuations with endless pop-media trends and characters.  
Shop Collection
Our Commitment to Sustainability